Twisted Angels Blog Preview
Subscribe for access to full articles and blog content
November 11, 2014
Rock music has changed over the years but even today it still remains badass.
October 28, 2014
Rob Zombie is a visionary in the horror genre. Check out this list of some of his best work.
October 14, 2014
Wes Craven is synonymous with horror. This article explorers his bod, bad and ugly movies.
October 7, 2014
A look into the legendary and innovative films of the talented Tim Burton.
September 16, 2014
A countdown of our top five favs when it comes to zombie movies.
September 9, 2014
Want to become a tattoo artist? Here are some tips on how to get into this career.
September 2, 2014
Semi-permanent tattoo ink? Yes, it's out there and it's called Infinitink.
August 26, 2014
Skate and punk cultures and their misunderstood nature among mainstream society.
August 19, 2014
A cool look inside the artistic and cultural elements of the musical genre known as UK Garage.
August 12, 2014
Pale skin can be super sexy but sometimes it can also be cause for concern, this article dives into the differences between the two.
August 5, 2014
Edgar Allan Poe was a brilliant writer and his creativity and imagination has had a major impact on Goth culture.
July 29, 14
Celebrities sometimes go Goth for roles in films and movies. Here are some of our favorite examples.
July 22, 14
Punk culture and music is alive and well and has become a world wide lifestyle.
July 15, 2014
Tattoo artists don't always use skin as their canvas. Sometimes, they go a little more traditional.
July 8, 2014
Sturgis is the ultimate motorcycle rally. Each year, bikers take over this small town in South Dakota.
July 1, 2014
Wondering what steampunk is all about? We have the info on this unique style and culture.
June 24, 2014
Every wonder which cities are the most friendly for members of the Goth subculture? No need to guess any longer.
June 17, 2014
Our suggestions for cools ways to match the colorful and creative styles of your favorite anime characters.
June 1o, 2014
Every Goth girl needs the right accessories. Check out this guide to look and feel the part.
June 3, 2014
The Russian musical group Pussy Riot is the very essence of punk rock as a form of protest art.
May 27, 2014
There have been some great metal bands over the years. These are our picks for some of the best.
May 20, 2014
Tattoo regret can really suck. Here are some great suggestions on how to avoid this problem happening to you.
May 10, 2014
The Electric Forest Music Festival is a special of right and sound like nothing else. Learn more about it here.
April 30, 2014
Industrial music has rocked for a long time. Here are our selections as some of the top albums in the history of this wild genre.
April 24, 2014
New York city is known for having some of the best graffiti art on the planet. Here are a few of our favorite hot spots.
April 12, 2014
Pin up art has come a long way since its origins in the mid-20th century. Check out the evolution from classic to modern.
April 2. 2014
All about on of the original dark and edgy pin up babes – the stunning and still influential Bettie Page.
March 21, 2014
Are you a horror film fan? Check out our list of some of the top horror films ever.
March 11, 2014
What are some of the coolest and best job options for people with body modifications? Here are a few that fit just right.
February 28, 2014
Gaming kicks ass for a lot lot of reasons. Here we talk about why.
February 20, 2014
Did you know your tattoos can say a lot about your personality? They sure can and this article explains how.
January 22, 2014
Essentials for every hot emo girl.
January 1, 2014
We're setting the record straight about the stereotypes of rave culture.
December 17, 2013
Model St. Siddney gives us a little insight into what makes this alternative beauty kick mad ass.
November 18, 2013
Women with sexy legs and hot ink to decorate them makes for one really hot combination.
October 25, 2013
Sometimes we don't think our decisions through when it comes to ink. That's what cover ups are for.
September 12, 2013
Theresa Vail – Pageant queen and tattoo babe! This hottie is breaking down barriers for the body-modified among us.
August 21, 2013
Want to know how to spot a bad tattoo artist? We'll give you a couple of things you should look out for.
August 10, 2013
Thinking about dying the hair downstairs? This article will give you some good tips before you dive in.
July, 13, 2013
Over the years, they're have been a lot of hot actresses who have taken on the roles of vampires. These are some of our favorites.
June 20, 2013
An in-depth look at the talented and sexy musician/artist/dancer Noemi Aurora.
May 11, 2013
We're setting the record straight on stereotypes about the Goth subculture.
May 2, 2013
Meet Twisted Angels model Lizz and she what this sexy bombshell is all about.
April 13, 2013
What do you get when some of the hottest girls in Hollywood decide to get edgy and go Goth? We'll not only tell you but we'll show you.
April 2, 2013
The artwork of tattooed beauty Natalia Fabia is inspired by punk rock culture, hookers and bright, sparkly color.
March 11, 2013
Hot and sexy women rock all types of music. But these ladies own the metal muic scene.
February 9, 2013
Meet our stunning model Raechel Raeg and learn about her from her own words.
January 15, 2013
Liz Fuga relays her experience with Tattoo Noir, a Pittsburgh-based tattoo studio.
January 4, 2013
Check out these hot trends in body modification, from the simple to the extravagant.
December 31, 2012
Out with the old, in with the new as Twisted Angels says goobye to 2012.
December 11, 2012
Lady Gaga is an alternative fashion superstar, right down to her very cool tattoos.

November 28, 2012
Artist David Gonzalez wows with his urban and Gothic work, including the series DGAngels.
November 13, 2012
For some reason or another, you might just want your next tattoo to be a little discrete in nature. This is a great guide on how to do just that.
October 26, 2012
Twisted Angels model Miaa is starting in the new suspense thriller "Mesmerize" from Future Frame Productions.
October 22, 2012
Meet our hot young model from South Africa, Punky Spunky as she tells us about herself in her own words.
October 6, 2012
When shooting alt model photography, sometimes your basic setting just won't do. These location suggestions can help you make your photos totally badass.
October 4, 2012
Contributing author Liz Fuga gives readers the inside story on some of the best haunted houses in Pittsburgh, the hometown of Twisted Angels.
September 18, 2012
Our models cover the pages of a 2013 Wall Calendar! More info can be found in the "Store" section of the site.
August 30, 2012
A look at the tattooed, pin up drawings of artist Adam Isaac Jackson.
August 10, 2012
An in-depth look at Edgar Allen Poe and H.P. Lovecraft, two of the masters of literary horror.
August 1, 2012
Olympic athletes may dominate on the field of play but some like Anastasia Davydova, Anthony Ervin, Louis Smith and Ivet Lalova also kick ass when it comes to having some really awesome tattoos.
July 23, 2012
Ever wonder where the best place is to get your tattoo? Contributing writer CJ Colt gives us a compilation of the Top 5 cities in the U.S.
July 13, 2012
Liz Fuga discuses the artistic merits of the horror film subgenre known as "torture porn."
July 2, 2012
Twisted Angels model and Brazilian bombshell Skye Diamonds engages in a little Q and A.
June 26, 2012
Contributing writer Liz Fuga delves into the world of creative comic artist Jhonen Vasquez. The specific focus is one his newest venture working with "Meanwhiles."
June 18, 2012
Taylor Momsen evolves from all All-American TV and film star to smokin' hot gothic beauty in her role as lead singer and songwriter for Pretty Rreckless.
June 9, 2012
Meet our awesome model Scarlett Night, Get to know her in her own words.
May 25, 2012
Details and info on bike nights in the city of Pittsburgh for all you motorcycle enthusiasts.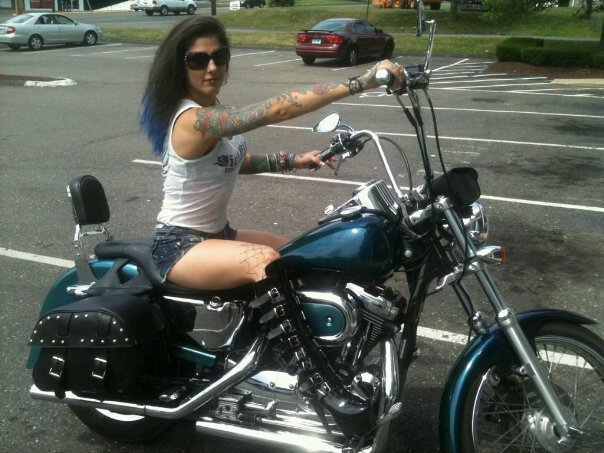 May 18, 2012
NaTyMeTal, our resident model/photographer double threat, talks about her life, body mods and more.
May 16, 2012
What going on for World Goth Day?
May 7, 2012
Female tattoo artists with big time sex appeal.
April 19, 2012
Which death metal bands rock your world? Here's our top ten list.
March 26, 2012
Everything you every wanted to know about reverse belly button rings.
March 19, 2012
Pale is sexy, but why? Maybe this article can clue you in on why it is that the fair skinned among us drive us wild.
March 12, 2012
Getting your ink done is just the beginning. Proper aftercare is something everyone should take the time to learn about.